Salvia
'Heatwave Glitter'
Long flowering and pollinator friendly.
Hardy and fast growing.
Water wise for gardens and containers.
Botanical name Salvia hybrid Heatwave Glitter
Botanical name Salvia hybrid Heatwave Glitter
Plant uses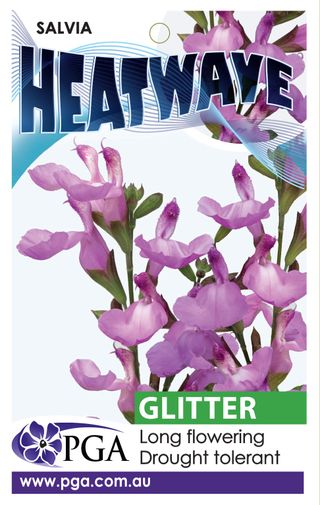 Kept lightly clipped they can be utilised as a low informal hedge or individually will give a year round presence either in the garden or as a large container specimen.
Wonderful displays can be achieved by mixing an array of some or all of the varieties with some ideal companion plants such as daylilies (hemerocallis), convolvulus, gauras, gaillardias and varieites of sedums just to mention a few that will flower for at the same time and require the same growing and watering requirements.
Cultural care
Once established they require minimum watering (occasional deep watering during extended periods of heat) and a single feed in spring with a general purpose fertiliser will keep your shrubs looking good. After a main flowering flush trim the plant by half to encourage further flowering and a dense, tight habit.