Ajuga
'Burgundy Glow'
Colourful, ornamental foliage all year round.
Fast growing and low maintenance ground cover for low light areas.
Will spill over walls, rocks or down embankments.
Botanical name Ajuga reptans Burgundy Glow
Botanical name Ajuga reptans Burgundy Glow
Plant uses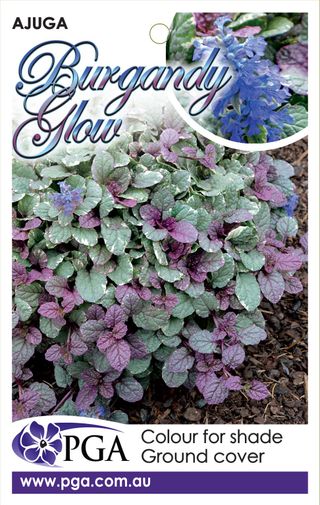 Containers or general garden use
Colourful foliage year round for low light areas
Ideal ground cover for small areas as well as for edging paths and garden beds
Small or narrow spaces
Will cascade over walls, rockeries etc
Cultural care
Grows well in most soil types which are moist but well draining.
Frost tolerant. No pruning required.
Will tolerated sunny locations given adequate moisture and protection from any strong afternoon sun.
Apply a slow release fertiliser during spring.
Mulch well to help retain moisture during dry periods.