Abelia
'Kaleidoscope'
Very dry tolerant and hardy
Low maintenance
Year round foliage colour
Grows well in gardens or large containers
Botanical name Abelia x grandiflora Kaleidoscope
Botanical name Abelia x grandiflora Kaleidoscope
Plant uses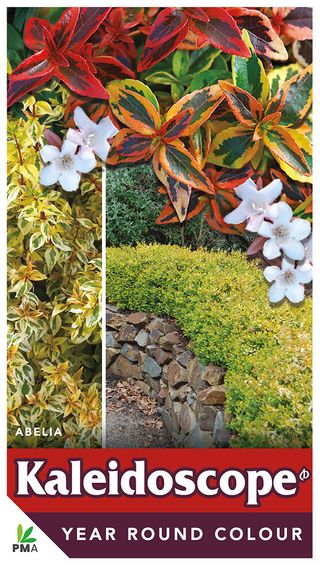 Bright colour and interest all year round
Medium sized tubs or containers
Low water and low maintenance gardens
Small gardens or spaces
Informal hedging
Mass planting
General garden use
Cultural care
Select a sunny location in most soil types that are well draining. Best autumn colours are achieved when planted in full sun although it will grow well in light shade tending to stay more in shades of yellow and green.
Pruning is according to use - for general garden displays, a light tidy-up prune may be given to maintain a neat appearance. If used for hedging - regular light trims will be required to maintain preferred shape and size which may mean some loss of flower display but colour of new foliage growth will compensate for this well.
Follow a regular watering schedule during the first growing season to establish a deep, extensive root system after which you will find A. 'Kaleidoscope' will tolerate dry conditions very well. Feed with a general purpose fertilizer before new growth begins in spring.
Occasionally a water shoot may appear (looks like a longer cane than normal and will rise alone, above the existing foliage height) which should be pruned out from base.