Liriope
'Royal Purple'
Tough garden plant for shady areas.
Mass plant as ground cover or along edging.
Suitable for gardens and containers.
Botanical name Liriope muscari Royal Purple
Botanical name Liriope muscari Royal Purple
Plant uses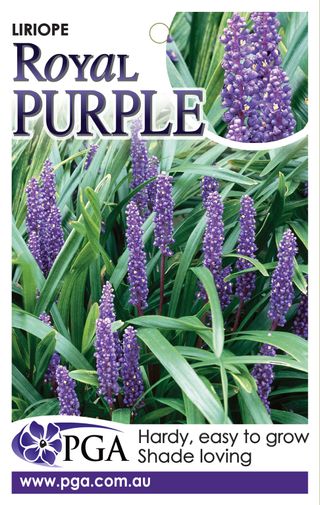 The year round, tidy appearance of this variety lends itself perfectly to borders and edging along paths and driveways. Use to fill in gaps in rockeries or mass plant to cover difficult embankments. Makes an ideal, hardy groundcover where it can be used as a lawn substitute in areas too dry or shady for lawns to grow well. Can be an attractive specimen for large containers on patios and entertaining areas where repeating three or more containers in a row will give a very contemporary, modern look.
Cultural care
Well suited to all general garden situations including coastal conditions. Easy to grow, frost tolerant and dry tolerant, this variety performs best in a shaded position although it will survive in full shade. An application of slow release fertiliser during spring would be beneficial to overall performance. Although tough in dry situations, regular watering to ensure establishment should be given for the first year after planting. In some areas protection from snails may be required.