Tulbaghia
'Silver Lace'
Very hardy in wet and dry conditions.
Long flowering with ornamental foliage.
Water wise and pollinator friendly.
Botanical name Tulbaghia violacea Silver Lace
Botanical name Tulbaghia violacea Silver Lace
Plant uses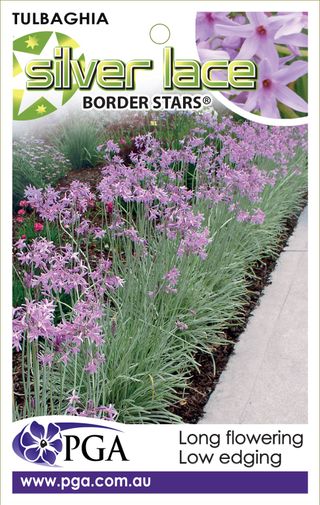 Select a warm, sunny site in a free draining soil. Water plentifully when the foliage is in active growth then reduce as flower spikes emerge. In very cold areas water freely again just prior to bulbs entering dormancy. Tolerant of temperatures to -10°C. Some protection may be required in areas where heavy prolonged frosts occur. Also drought tolerant although mulching and the occasional deep watering during extended dry periods will increase overall plant performance. No pruning is required - simply remove spent flower heads to encourage further flowering and to keep a neat appearance. Use a slow release fertiliser during spring.
Cultural care
Use at the front of a sunny garden border or in cottage and herb gardens. The silvery foliage is attractive when used in rockeries also. Wonderful accent plant which is particularly effective when used as a contrast to other dark green foliage plants. Can be a dainty and benefical companion plant for the vegetable patch.