Rhodanthe
'Paper Cascade'
Native paper daisy
Tolerats full sun
Great in containers or garden beds
Botanical name Rhodanthe anthemoides Paper Cascade
Botanical name Rhodanthe anthemoides Paper Cascade
Plant uses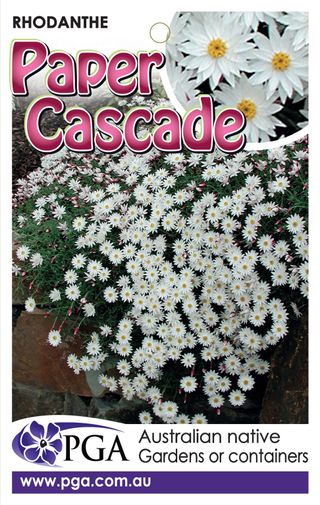 an be used in native or cottage style gardens, rockeries or containers. Ideal for cascading over retaining walls or from hanging baskets.
R. 'Paper Cascade' will continue to flower for many weeks when brought indoors although it should be returned outdoors when the display is over. The flowers of 'Paper Cascade' are also worthy additions in dried floral arrangements especially in small posies and informal floral decorations.
Like most everlasting daisies, once dried they retain their colour and shape indefinitely. The flowers can be dried easily by cutting the stem just as the flower is beginning to open and hanging loose bunches upside down in a dry place which is out of direct sunlight. In 3-4 weeks the flowers will be properly dried and can be arranged as you would fresh flowers.
Cultural care
Plant in a moist but well drained soil. Tolerates full sun but is best suited to morning sun and afternoon shade. Occasional deep waterings during extended dry periods is recommended.
Prune back by approximately by one third of overall size when new growth begins to appear after flowering. An application of slow release fertiliser at this time would also be advisable. For added performance a light trim and a further light application of fertiliser during autumn will be beneficial.