Lithodora
'Baby Blue'
Low growing mat of textural evergreen foliage.
Prolific display of clear blue flowers in spring.
Great for rockeries and containers too.
Botanical name Lithodora diffusa Baby Blue
Botanical name Lithodora diffusa Baby Blue
Plant uses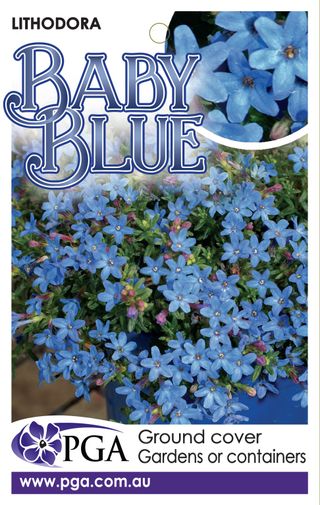 An ideal plant for rock gardens or for filling gaps between perennials in garden borders. Mix with other blue, mauve or white flowering plants for a soft, cool colour scheme or alternatively plant in small drifts of two to three plants in a hot coloured border of yellows, oranges etc. to give the eye some relief from these spectacular but sometimes overwhelming displays.
Cultural care
A full sun position is preferred although light shade will be tolerated. Will grow in most soil types providing there is good drainage. Low maintenance requiring only a light trim after main flowering flush to encourage new growth and further flower production. Frost hardy.

An application of slow release fertiliser during early spring would be beneficial.