Limonium
'Perezii Blue'
Tough and water wise
Pollinator friendly plant
Great when mass planted
Botanical name Limonium Perezii Blue
Botanical name Limonium Perezii Blue
Plant uses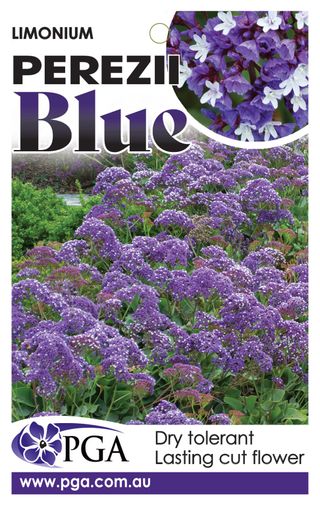 Ideal for use in coastal gardens, rockeries and perennial borders. Foliage forms a crown of large, leathery leaves that offer textural interest in garden plantings year round and should not be overlooked as a feature on its own. Creating large groups of 3-5 plants or borders of this limonium will result in low maintenance feature all year long.
Flowers are terrific for use in both fresh or dry floral arrangements retaining their colour over a long period.
Containers, small or narrow spaces.
Embankments, rockeries and retaining walls.
Coastal zones and poolside landscaping.


Cultural care
Performs best in a full sun position in most soil types which are well draining.
Apply a complete fertiliser during early spring and remove spent blooms after main flowering to tidy and encourage further displays.