Hemerocallis
'Stella Bella'
Evergreen foliage - great for mass planting
Compact variety for gardens and containers.
Long and repeating display of golden blooms in warmer months.
Botanical name Hemerocallis species Stella Bella
Botanical name Hemerocallis species Stella Bella
Plant uses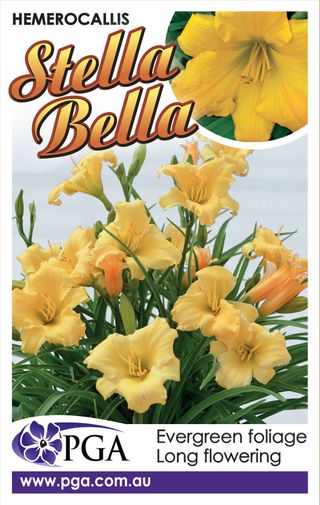 Most effective when grown in informal 'clumps' scattered through the perennial border. Provides an attractive and eye-catching display when used in mass plantings and is ideal for covering areas requiring low maintenance. Will work well in most colour schemes unless you wish to mix with pinks. In this instance it would be recommended to use deep, hot pink colours rather than soft, pastel pinks. Interesting effects can also be created by using green flowering or foliaged plants as the main structure of your border or bed allowing the golden flowers alone to add drama to the landscape.
Cultural care
This very tough plant will survive in most soil types where many other plant species may not but naturally a rich, moist soil that is well drained will provide you with optimum performance giving you a consistent and prolific display. Choose a full sun location as shade will diminish flower production. Frost hardy and drought tolerant given occasional deep watering during extended dry periods. No pruning is required although removing spent flowers will encourage further flushes.