Ajuga
'Black Scallop'
Deeply dark coloured foliage all year round.
Colourful spreading ground cover for low light areas.
More heat and frost tolerant than other varieties.
Botanical name Ajuga reptans Black Scallop
Botanical name Ajuga reptans Black Scallop
Plant uses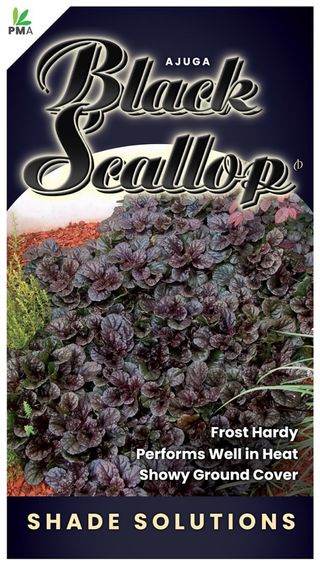 Makes a showy ground cover for moist, shady areas of the garden
Ideal to creating an accenting foil around the base of landscape focal points such as garden seats, statues or container specimens
In ideal growing situations it will form a dense mat difficult for weeds to penetrate effectively creating a low maintenance zone
Cultural care
Although best sited in semi-shade for most reliable performance, A. 'Black Scallop' is a hardy perennial which can grow well in full sun positions as long as the soil is well draining but moist and sheltered from strong afternoon sun.
Other requirements are minimal with no pruning required and a single application of slow release fertiliser during spring being recommended for optimum performance.
A. 'Black Scallop' performs better in the heat than most other varieties and will withstand frosts and temperatures to -35ºc. Another benefit of this form is its mildew resistance - a condition known to afflict many of the other varieties.