Agapanthus
'Silver Baby'
Silver-white flowers with ice blue edging.
Hardy, dwarf Agapanthus ideal for edging and small spaces.
Low maintenance and drought resistant.
Botanical name Agapanthus Silver Baby
Botanical name Agapanthus Silver Baby
Plant uses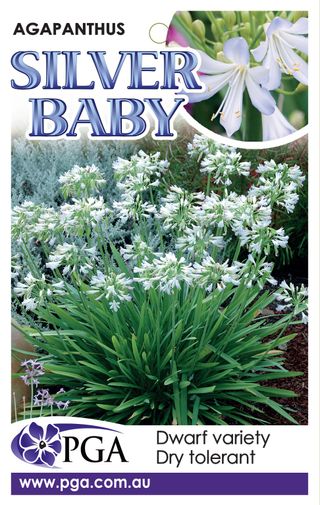 Well suited to large containers
Gravel style and water wise garden designs
Mass plant low maintenance areas
Mixed flower borders
Plant Partners: Plants which require similar growing conditions which are also complementary include: Daylilies, Salvias, Lavenders, Succulents
Colour Schemes: A 'Silver Baby' has predominently white flowers and as such can be incorporated into any colour scheme. As it flowers through the warmer months it is particularly refreshing to adapt a 'cooler' scheme including blues and purples with perhaps a little yellow added for some drama. You are certainly not limited to any range with this one, however, so let your creativity flow!
Cultural care
Select a sunny location in most soil types given that it is well draining. No pruning is required although removing spent flowers increases further production. Hardy and dry tolerant once established. An addition of a slow release fertiliser during spring would be beneficial to overall performance.